Best Tasting Surface Water Award for 2011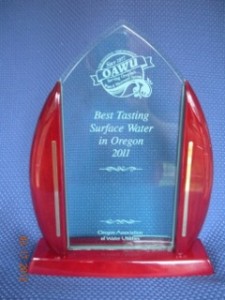 Mountain Times posted on 04/01/2012
Rhododendron Oregon
Rhody Water Garners Best in State Award For the ultimate in drinking water in the state of Oregon, you'll have to journey all the way to – Rhododendron.
The Rhododendron Water Association walked away with first place honors as Best Tasting Surface Water in Oregon at the 34th annual water utilities conference held March 7 at Sun River.
"I am proud as hell to have our water association receive such an award," said Steve Graeper, president of RWA. "It is quite an honor to know we have the best tasting surface water in the state, especially after all the turmoil our treatment plant has been through over the past couple years."
Graeper was referring to the 2010 disaster when a Douglas fir smashed into the filtration unit during the late autumn rainstorms. As reported in the April 2010 Mountain Times, RWA received an Excellence in Service award from the Oregon Association of Water Utilities for its response to that crisis.
That same year, RWA garnered a second-place for tasting from OAWU, but moved up to first place this year. Graeper was quick to point to RWA Water Master David Jacob "for all his hard work in providing excellent filtration and treatment of the RWA water."
In turn, Jacob referred to the unique quality of Big Henry Creek, a tributary of the Zigzag River and part of the Sandy River Basin Watershed, which delivers the tasty treat to the association.
"Great tasting water comes from a great tasting source," Jacob said. "It is my job to make sure it stays that way."
After many years of being in a reactionary mode and dealing with and paying for repairs and emergencies as they arise, the RWA has shifted gears and is now in a proactive position to hopefully prevent any future emergencies or outages from occurring.
"We have a prioritized list of the capital improvements we need to accomplish in order to upgrade our filtration and distribution systems and continue the flow of the best tasting surface water in Oregon," Graeper said.
Again, crediting Jacob as well as RWA Executive Secretary Marilyn Peterson, Graeper added that the entire board is committed to taking the association into the 21st Century.
"We have turned the association's finances around and are bound and determined to internally finance all the needed capital improvements," he said. "However, we are looking to accomplish this with only minor rate increases and those increases will be primarily just to maintain a line with inflation."
And while the work is going on, board members and the fortunate recipients of the liquid gold, will continue to quaff the state's best surface water.
by Larry Berteau/MT